BROWSE THROUGH: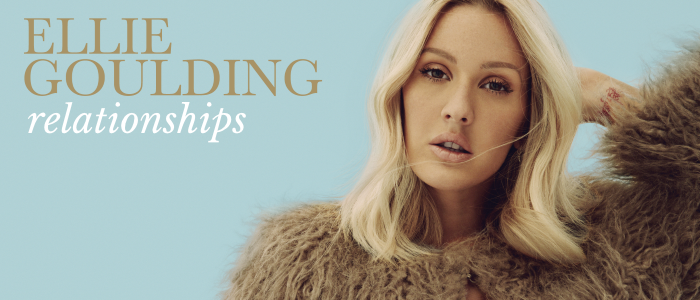 Here is a list of all of the people that Ellie Goulding has been related to:
Overview
Elena Jane Goulding is the second of four children (a brother and two sisters: Isabel, Jordan and Alex). Her mother is Tracey Goulding, and her father is Arthur Goulding.
Tracey Goulding (mother)
Edit
Click here for the full article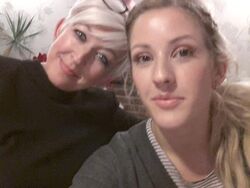 Ellie Goulding's mother is Tracey Goulding (née Clark). Tracey was an artist and music fan who used to hang out with punk group Siouxsie and the Banshees, and worked for various record companies.[1] She used to work at a supermarket. Ellie has described her as being cool. She said:
"
"My mum is really supportive now. She is fascinated by what is happening with me and my career. She is proud."
"

—Ellie Goulding
Arthur Goulding (father)
Edit
Ellie Goulding's father is Arthur Goulding. He left her family at the age of 5 due to unknown causes, and Goulding admits that she does not want to know why. Ellie has stated that even her mother (Tracey Goulding) admitted that it was a very difficult time for her and the family.
"
"She has suffered from feeling insecure for years."[1]
"

—Tracey Goulding
She initially saw him every other weekend, then once a month, and then "never". She last got in touch with him when she was 19. He came from a family of undertakers, and Ellie has said that he was "obsessed with murder".[2] He once brought home a murder file, which she looked through until her mum discovered it. She burned it in the back garden during a row with Ellie's dad. Ellie said:
"
"It really sparked quite a dark interest in me. Some of my songs have been influenced by it. I was really interested in death and I have always been really aware of mortality."[3]
"

—Ellie Goulding
Arthur Goulding lives some miles away in a home in Hereford with his second wife Sharlene. Sharlene has showed little interest in her stepdaughter's extraordinary achievements.
[1]
Stepfather
Edit
Due to the circumstances, Ellie had a stepfather who was a tattooed lorry driver, but Ellie's mother had once again split after being together for around 15 years. She had said that if she saw him again, she would punch him in the face.
"
"He just wasn't very nice to us."
"

—Ellie Goulding
She also said that she never realized why her mother was with him. Ellie possibly thought that it was because he was willing to take on four kids, but it never got on. In the end, Goulding said he got his comeuppance finally, which was basically being a "lorry driver". He was described as having tattoos of: a bulldog smoking a spliff, and a snake with a dagger through it.
[3]
Brothers and sisters
Edit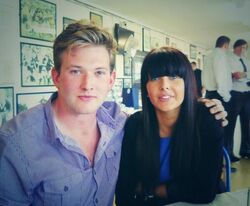 Ellie Goulding has two sisters and one brother. Isabel is her older sister, Jordan is her younger sister, and Alex is her brother. She said that she shared a bedroom "with my sisters: me and my younger sister, Jordan, had bunk beds, and Isabel was on the other side of the room." Tracey remembers Ellie as a "theatrical" youngster who used to put on Spice Girls shows with her brother Alex and sisters Isabel and Jordan.[1]
References
Edit