"Outside" is a song by Scottish producer and DJ Calvin Harris from his fourth studio album, Motion (2014). It features English singer-songwriter Ellie Goulding. It is placed as track no. 6 on the album and was released on the 20th of October as a single.
The song later served as the last bonus track from Goulding's third major-label full-length album Delirium.
Background
Edit
Ellie Goulding first mentioned the song when she told rdio that she had written a song with Calvin Harris during a session in 2014.
Later on, Calvin Harris uploaded a picture to Facebook the track-listing of Motion uncovering the song's title collaboration with Ellie to be 'Outside'. It was the 6th track on the album.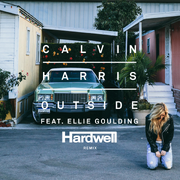 The song premiered on some UK radio stations on the 20th of October before its official release worldwide at 8:30AM on the 20th of October in the UK on Harris' VEVO and Youtube channel as announced by Calvin on Twitter.
Hardwell Remix
Edit
Hardwell's remix of Outside premiered on the 22nd of February, 2015 and was released on the 23rd of February.
Music video
Edit
Premiere date: November 12, 2014 (Youtube & VEVO)
Director(s): Emil Nava
Stylist(s): N/A
Choreographer: N/A
Photographer(s):
Emil Nava
The music video for "Outside" was filmed on Monday afternoon (October 20) in Los Angeles and features Ellie Goulding and Calvin Harris. It was directed by Emil Nava.
The video premiered worldwide at 8:00AM (GMT) on the 12th of November on Harris' VEVO and Youtube channel as announced by Calvin on Twitter.
The music video is about the breakdown of a relationship in which this case involves Harris and Goulding. As their partners discover that they had been cheating on them, they show their aggressive sides. Near the end of the video, time seems to stop but Ellie and Calvin continue to move.
On the set
Edit
Look at what you've done
Stand still, falling away from me
When it takes so long
For I desire, what do you want to be?
I'm holding on
Yourself was never enough for me
Gotta be so strong
There's a power in what you do
Now every other day I've been watching you
I'll show you what it feels like
Now I'm on the outside
We did everything right
Now I'm on the outside
I'll show you what it feels like
Now I'm on the outside
We did everything right
Now I'm on the outside

No, you give me no reason
For me to stay close to you
Tell me what lovers do
How are we still breathing
It's never for us to choose
I'll be the strength in you
I'm holding on
Yourself was never enough for me
Gotta be so strong
There's a power in what you do
Now every other day I've been watching you
I'll show you what it feels like
Now I'm on the outside
We did everything right
Now I'm on the outside
I'll show you what it feels like
Now I'm on the outside
We did everything right
Now I'm on the outside

I'll show you what it feels like
Now I'm on the outside
I'll show you what it feels like

I'll show you what it feels like
Now I'm on the outside
We did everything right
Now I'm on the outside